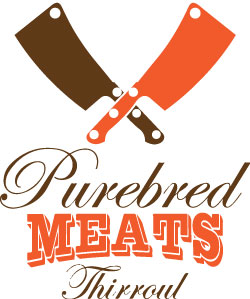 Purebred Meats Thirroul
Located in the shopping village of Thirroul, Purebred Meats specialises in high quality Organic, Pasture Fed & Free Range Meats.
Our selection includes a complete range of prime cuts in grass-fed & finished beef, free-range pork and free-range lamb and organic lamb/cow pool. We also offer a selection of organic, free-range chicken & free-range duck, nitrate free bacon, and wide range of chef's favourites, such as beef cheek, offal and high quality pasture-fed stocks.
Our award winning range of gluten-free sausages are all made in-house from our high quality free-range meats and flavoured with delicious high quality ingredients.
We pride ourselves in excellent service, and if you prefer a specific cut of meat or an altered version of our premade gourmet products, we'll be happy to make one for you. Give us a call and we can discuss further!
Opening hours
Mon – Fri
6.00am – 5.30pm
Saturday
6.00am – 2.00pm
Closed Sundays & all public holidays.
Contact details
Ph. 02 4267 2372
A. 279A Lawrence Hargrave Drive,
Thirroul
For all your pure bred meat needs – visit us today or call us on (02) 4267 2372. We deliver to you in the Illawarra, on the way south to Nowra or north to Sydney.