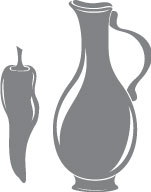 Condiments & more
We offer a varied range of leading international and local brands in our range of gourmet condiments, oils and breads. These include chutneys, mustards, dessert sauces, marinades, pates, oils, breads and vast array of gourmet salts and spices. Many of the products are leading brands from Italy, France and the US. Many of our Australian producers are local Illawarra or far South Coast pure foods businesses whose products inspire us and whom we choose to support. All are top range. They offer delicious and delicate accompaniments to our meat and poultry range.
This 'tastes of the world' range may include at any given time:
Purebred branded products
Pickles, sauces, mustards, salad dressing and desert sauces.
Bread dippers
To have with sour dough bread, well-presented for your entertaining needs.
Grand Marnier sauce
As a desert on yogurt or ice-cream.
Duck or goose fat
A delight in which to roast potatoes.
Jams
Strawberry, champagne, blueberry, peach, blood orange, lamb and red onion.
Breads
Original sourdough, spelt, grain Vienna, rye, olive and herb.